Entrepreneurship has for many years impacted the developed world and emerging economies by acting as a catalyst and a driver for change. More recently, entrepreneurs have demonstrated the prospects offered by tech-enabled startups to transform their societies. For Africa, a generation of young and educated entrepreneurs represents a potential game-changer that could drive continent-wide accelerated growth, help transform 54 economies, and improve the lives and livelihoods of over 1.2 billion Africans. Therefore, it is in Africa's interest to build a conducive entrepreneurial ecosystem that supports startups and small and medium-sized enterprises given their potential to accelerate Africa's socio-economic transformation.
Africa's size coupled with its diversity in cultures, languages, habits, norms, values, and beliefs demonstrate the magnitude of the opportunity that lies ahead. Africa is a highly heterogeneous continent where no one-size solution can fit all. Countries face different challenges that relate to their historical legacy, economic growth, social development, and political stability. However, entrepreneurship has the potential to turn every challenge into an opportunity through the spread of innovative startups that are driven by the youthful entrepreneurial spirit found across the continent.
Entrepreneurship is by design socially responsible because it creates a portfolio of diversified jobs that the continent desperately needs. Judging by the growing number of promising startups over the last decade, there is a positive feeling across Africa that entrepreneurship has the opportunity to change the future of many, as the best if not the only solution, to help transform a continent with huge potential yet remains largely untapped. Africa's growing generation of entrepreneurs are fueled by optimism, risk-takers, upbeat about their abilities, more than ever eager to start their own business, become successful entrepreneurs as well as agents of change. They understand the impact of entrepreneurship and believe it can become the engine for development and growth in Africa. Therefore, moving forward, the entrepreneurial space is expected to expand exponentially.
Africa is both the poorest yet one of the fastest-growing continents in the world with a GDP growth of 3.4% in 2019. In addition, Africa is leading the charge with more than 22% of its working population, and 27% of adult females engaged in early-stage entrepreneurial activities and business transactions. Today, the continent is home to six out of the ten fastest-growing emerging economies in the world; clearly demonstrating the mounting importance of Africa and the pivotal role the continent is poised to play on the global stage.
However, while entrepreneurship is growing rapidly, entrepreneurs across different countries continue to face significant challenges that impede their progress, including the lack of legal and regulatory environment, a reliable and affordable infrastructure, an insufficient pool of educated human capital, limited access to finance, government bureaucracy, market inefficiencies, and the lack of other invaluable support environments. Consequently, Africa needs an environment that engages all stakeholders including the private sector, the government, and the civil society; spreads innovation and entrepreneurship; promotes technology diffusion; encourages business collaboration; accelerates creative ideas; and, helps African entrepreneurs thrive.
It is worth noting that the Covid-19 impact is already changing Africa in profound ways. Depending on how long the pandemic-derived economic slowdown will last, Africa could suffer from a recession for the first time in years. Therefore, African countries should think of innovative ways to bring their economies back on track while ensuring the health and safety of their population. It goes without saying that no matter how one thinks about it, there is nothing remotely good about societies being affected by a pandemic. However, the Covid-19 crisis can act as a catalyst for further entrepreneurial activities that provide effective solutions to the challenges facing the continent and help it emerge with more economic inclusion, smarter societal development, more efficient services, and globally competitive and agile startups.
When the pandemic hit, Africa was already going through digital transformation having the world's fastest rate of new broadband connections and mobile data traffic; in addition, online shopping was increasing rapidly. Furthermore, Africa's entrepreneurs were forging ahead with strategies for harnessing the digital economy by establishing innovative startups that had contributed a host of cutting-edge products and services addressing critical challenges including logistics, financial inclusion, retailing, education, manufacturing, agriculture, transportation, and healthcare. For example, a mobile phone or a digital device is often the only way to access different services, shop, study, communicate, and start a business. Therefore, the challenge of a limited infrastructure has pushed Africa to be more innovative and propelled it to a massive acceleration in digital payments such as M-Pesa which has leapfrogged traditional banking and payment practices and provided access to a portfolio of financial services for millions of unbanked people in Africa. Also, Swvl, known as the Uber of buses, is a premium alternative to public transportation where customers, through a mobile app, can book fixed-rate, affordable, quality, convenient and reliable everyday bus rides on set routes; an effective solution that is much needed given the traffic and transportation challenges in major cities across the continent.
It is important to note that many African entrepreneurs are members of the continent's diaspora. They want to come back, start a business, and make a difference to society. This is partially driven by their sense of belonging and ties to their roots, but they also acknowledge the potential for business growth, and they want to capitalize on a first-mover advantage. Therefore, creating a thriving entrepreneurial ecosystem requires skilled individuals and a receptive and enthusiastic society.
African women entrepreneurs have been for years demonstrating their abilities and potential in the continent's development. According to the World Bank, in several regions across Africa, there are more female than male entrepreneurs with varying degrees of success but there is still a long way to go. There is a need to strengthen and expand the Pan-African entrepreneurial ecosystem through creating partnerships and collaboration mechanisms across the continent and establishing experiential learning programs to support a broader pool of young entrepreneurs that are talented and passionate, and that are in dire need to be trained, mentored, incubated, financed, and connected to be able to impact society.
One of the fast-growing building blocks in the continent-wide entrepreneurial ecosystem is the African Women Entrepreneurship Cooperative (AWEC). An invaluable, high-touch leadership and business management capacity building program that started in April 2018 with an eye to invest in Africa's promising, smart, and innovative women entrepreneurs. The purpose of the program created by the New York-based non-profit, the Center for Global Enterprise (CGE), is to empower African women entrepreneurs with the knowledge and network needed to build resilient, and scalable businesses. CGE was founded in 2012 by Samuel J. Palmisano, former CEO and chairman of IBM, to enable underserved communities around the world to gain more equal access to contemporary business and management learning opportunities. The objective of AWEC is to build the capacity of 5,000 women entrepreneurs by 2030.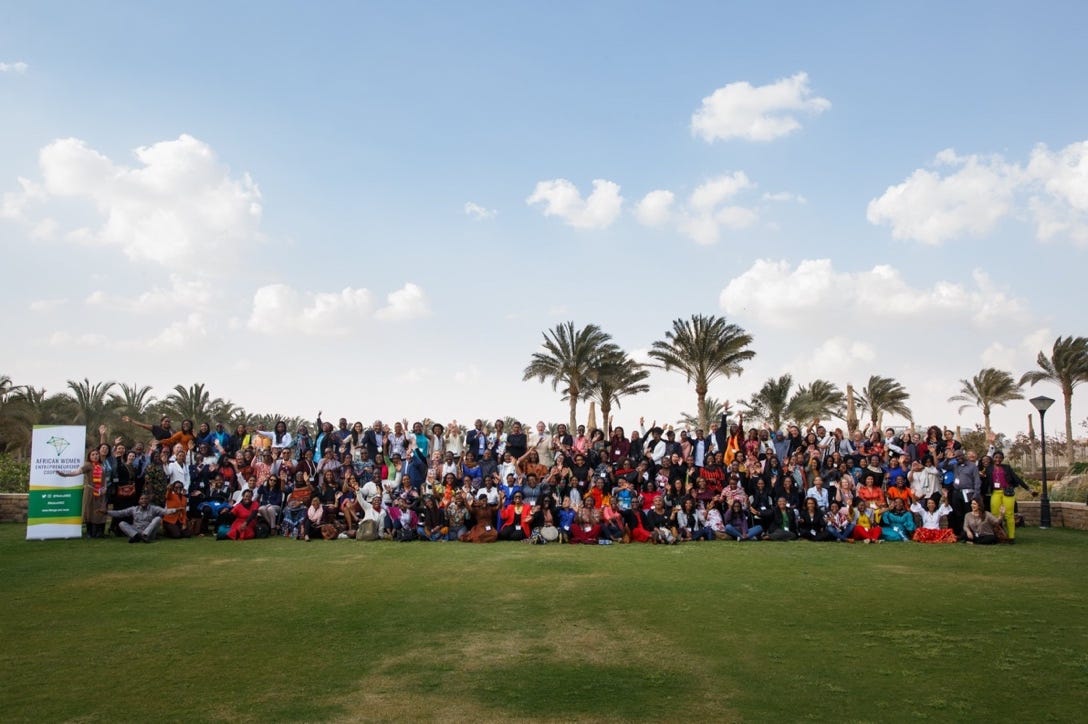 AWEC focuses on applied learning and collaborative experiences to ensure immediate business impact and the creation of a pan-African network of entrepreneurs, business leaders, and agents of change. The fast-paced, but steady cadence of the program provides ample opportunities to capitalize on innovative digital platforms by offering synchronous and asynchronous learning that challenges the participating entrepreneurs to meet high expectations, while establishing a roadmap for 12-months of learning coupled with a continuous journey of development, improvement, peer networking, mentoring, and impact. The program welcomes not only the savvy businesswomen who have successfully run their startups for many years and need additional management skills to scale-up but also the women who have identified a need in their society and aspire to be self-employed and build a business to meet that need.
AWEC is designed to focus on the expressed needs of African women entrepreneurs by addressing the United Nations Sustainable Development goals including (a) to ensure inclusive and equitable quality education and promote lifelong learning opportunities for all (SDG-4); (b) to achieve gender equality and empower all women and girls (SDG-5); and (c) to promote sustained, inclusive and sustainable economic growth, full and productive employment and decent work for all (SDG-8). During its first two years, AWEC has celebrated the completion of 400 alumnae representing every country across the continent. They are now ready to grow their businesses which represent over 40 different industries many of them focusing on education, agriculture, food products, fashion and apparels, and beauty and cosmetics. AWEC's third cohort is already underway with an additional 200 fellows enrolled.
The dream is that AWEC becomes the spark that enables the next great generation of African women entrepreneurs. More often the best ideas come in desperate times and real motivation happens when people are more challenged economically and socially so what really counts is investing in human capital and people's effective role in society as agents of change and, more importantly, the transformational impact they can help realize. There is no doubt that a well-established entrepreneurial ecosystem supported by ambitious programs such as AWEC and led by Africa's energetic and innovative entrepreneurs can help face the continent's primary challenges of sustained economic growth and poverty alleviation while at the same time build Africa's economy in a more inclusive and impactful way and become the platform for a re-imagined Africa.
About the authors: Christopher Caine is president of the Center for Global Enterprise in the United States and Sherif Kamel is a professor of management, dean of the school of business at The American University in Cairo, and president of the American Chamber of Commerce in Egypt.
26 June 2020
Issue #3